Selling commission free : 5 things to know to make an informed decision
Thinking of selling your property but reluctant to pay thousands in commission?
Should you hire a real estate broker or get help from a company like DuProprio? Here are 5 facts to help you make an informed decision.
1. Sellers are more successful with DuProprio than with brokers
The year 2018 was excellent for the market of commission-free resales in Quebec. The number of properties sold with the help of DuProprio increased 8%1 over the previous year. Among the key findings, we note that the success rate of those selling with support from DuProprio (calculated as the ratio of properties sold to those put up for sale) was 80%2, while the number for homeowners choosing a broker was only 61%3.
2. The selling time is the same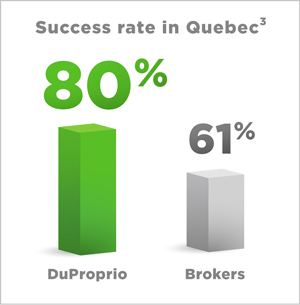 In Quebec in 2018, the average time to sell a property was about 110 days, be it with DuProprio or a real estate broker4.
"What actually impacts the amount of time needed is the location, asking price, product quality and awareness among potential buyers," states Martin Desfossés, real estate coach with DuProprio. What's more, a Harris/Decima study showed that the amount of personal time invested by owners selling their home is on average 30 hours, regardless of whether or not a real estate broker is involved in putting the property on the market5.
3. Legal protections are the same
It's not true that a seller is better protected with a real estate broker. In fact, opting for a broker only protects the seller in case of fraud or damage resulting from a professional error committed by the broker him- or herself. The broker's work therefore doesn't offer added legal protection in case of hidden defects or if a buyer backs out. "With or without a broker, you'll need a lawyer in an unfortunate situation like these. Only they have the expertise to give legal advice and handle these events," explains Elena Maria Bejan, head of the notary team at DuProprio.
4. A team gives you more resources than a single person
Selling without a broker doesn't mean going it alone. "When you choose DuProprio, you're surrounding yourself with a whole team of photographers, coaches, appraisers and notaries," points out Frédéric Auger, main director at DuProprio. While brokers must divide their time among several clients, DuProprio gives you access to a large team that can support you at every step of the transaction.
5. Selling without a broker lets you save thousands of dollars
According to CAA Quebec, despite the fact that property values have increased spectacularly, real estate brokers still demand 4% to 7%6 of the price. That means that, on a home selling for $300,000, the average commission of 5% would be $15,000, plus the applicable taxes.
DuProprio's support is offered at fixed rates (starting at $699, plus tax). And there's no commission to pay at the end of the transaction. "We help Quebec homeowners successfully sell their property in conditions that are similar to or better than what traditional real estate brokers offer—and we do it at a fraction of the cost," says DuProprio President Marco Dodier. "That's why it's important for homeowners thinking of selling to really understand our services. That way they can make an informed decision."
1. DuProprio, January 1 to December 31, 2018. 2. DuProprio, January 1 to December 31, 2018. Calculation based on the ratio between the number of properties declared sold and the number of properties put up for sale on DuProprio.com in 2018. 3. Fédération des Chambres Immobilières du Québec (FCIQ). Calculation based on the ratio between the number of properties declared sold and the number of properties put up for sale by real estate agents in 2018. 4. Centris and DuProprio, January 1 to December 31, 2018. 5. Survey of 1,004 Canadians, conducted by Harris/Decima between August 25 and 29, 2011. The margin of error is +/-3.1%, 19 times out of 20. 6. CAA Quebec https://www.caaquebec.com/fr/a-la-maison/conseils/capsules-conseils/conseil/show/sujet/confier-la-vente-de-sa-maison-a-un-courtier-immobilier/