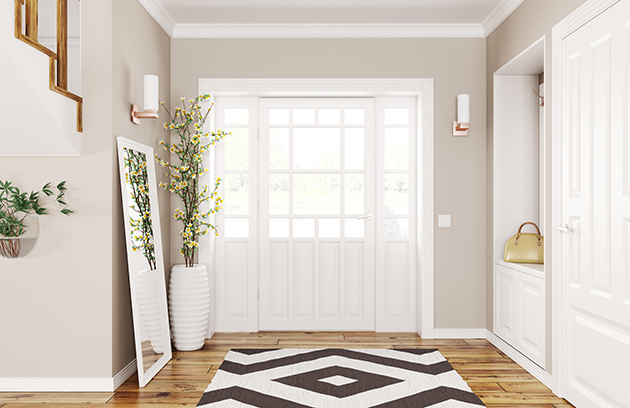 How to hold an open house while social distancing
While it's preferable to schedule individual visits with serious buyers, it's possible to hold open houses while taking measures to reduce the risks associated with COVID-19. Owners who decide to hold an open house must follow the hygiene rules imposed by the Quebec government.*
In order to be authorized, gatherings must be limited to 10 people from a maximum of three households. In any case, it's always advisable to limit the number of people attending an open house and to only let one person or a couple in at a time.
"First of all, this approach lets the owner do the walk-through with the visitors, answer their questions, and open doors and cupboards for them," explains Martin Desfossés, real estate coach at DuProprio. "And in the context of social distancing, it's important to limit points of contact. In addition, letting visitors in one at a time allows the owner to disinfect all the surfaces that potentially present a risk of contamination, after each visitor leaves and before the next one enters."
"Another advantage is that it keeps potential buyers from being distracted by other visitors and it offers them a one-on-one experience. While one couple is touring the inside, the homeowner's spouse (or a friend or family member) can start talking about the home with the next visitor and inquire about the potential buyer's needs. They can also give a tour of the outdoors, where appropriate."
A few hygiene rules to follow
The measures to follow during an open house are much the same as during a scheduled visit. Owners must ask that visitors wash their hands and keep a two-metre distance at all times.
The difference with open houses is that the owner must ask visitors if they have travelled in the last 14 days and if they are experiencing any COVID-19 symptoms at the moment. "If they answer yes to either question, take down their contact information and schedule a visit at a later date," recommends Martin Desfossés.
There are different reasons to hold an open house, one being that it lets owners meet several potential buyers within a short period. Download our recommendations to be sure to follow the measures issued by the public health authorities.
*The Quebec government has authorized indoor gatherings, subject to certain conditions, since June 15, and in the Montréal Metropolitan Area (CMM), the Joliette regional county municipality (RCM) and the town of L'Épiphanie, since June 22.