Help buyers fall in love with your home
Published on October 2, 2019
It is said that buyers decide whether to purchase a home within the first few minutes of their visit. That comes as no surprise, given that buying a house is not only a rational decision, but also an emotional one.
Everyone has tastes and preferences that influence their choices, and buying a house is no exception.
Most buyers are looking for a move-in-ready home. Of course, they'll want to make sure it's in good condition before buying. But first, your house has to charm them. To help buyers fall in love with your home, make sure it's looking its best!
First impressions
"First impressions are so important," emphasizes Martin Desfossés, real estate coach at DuProprio. "Make sure there are no irritants in the visitor's line of sight when they arrive. Resurface the driveway, spruce up the landscaping and add a fresh coat of paint to the exterior, if necessary. Everything should be in great condition."
Naturally beautiful
A good first impression should continue once the potential buyers step inside. Your decor won't please everyone, which is natural, but remember that aesthetics play an important role.
"Refine your decor with light, neutral colours and declutter all the rooms," recommends Martin Desfossés. "This will let buyers see your home's full potential. Also, be aware that the kitchen can make or break a decision, so be sure to give it a little more TLC."
Cozy atmosphere
Future buyers are looking for a comfortable home they'll be happy in. A warm welcome is therefore vital. "Invite them in and encourage them to visit on their own. Give them space to linger and imagine themselves living there."
Remain available to answer questions. Then, at the end of the visit, explain the elements that justify the asking price.
Buyer opinions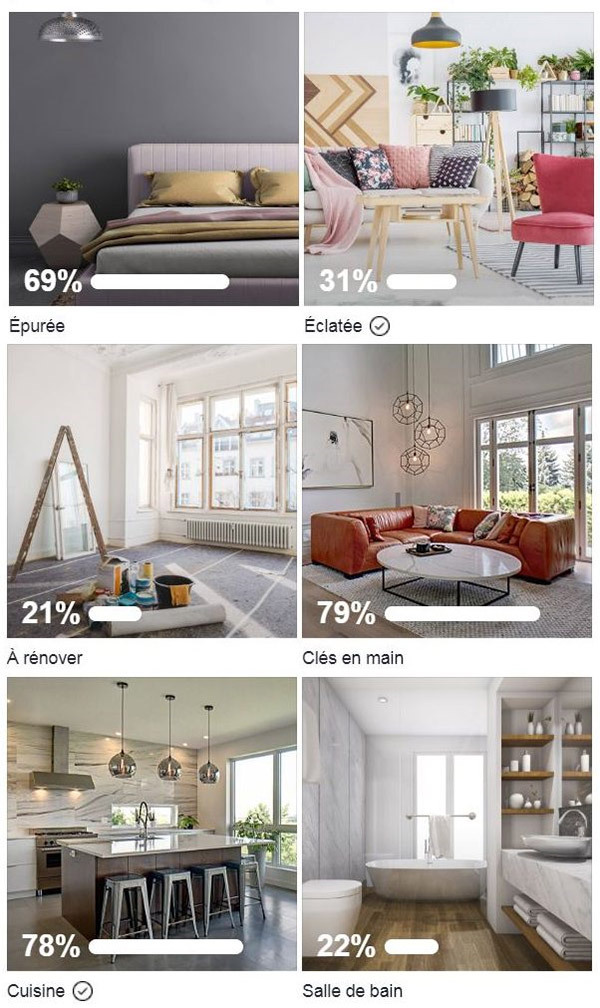 We conducted a little survey on our Facebook page just for fun. The results helped us put together the above advice.
When asked what type of decor would make them fall in love with a home, two thirds of respondents said that a pared-down style was preferable to an eclectic look.
When asked if they preferred doing a little work to have the house suit their tastes or to move in right away, nearly eight out of ten people said they preferred a move-in-ready home.
Finally, when asked whether it was the kitchen or bathroom that could make them instantly fall in love with a home, three quarters of respondents said the kitchen was more important.
There are different tricks to show your home in the best light. But the secret is to try to be objective and see it through a buyer's eyes. It can be a good idea to get an outside perspective to make sure your home is at its most charming.