Construction Sylvain Briand Inc
92 Rue St-Laurent
St-Eustache  J7P 1W8
License number: 5596-1221-01
Accreditation: GCR APCHQ
Automated translation
Construction Sylvain Briand works with dynamic and professional teams to meet your most rigorous requirements.
We have also obtained the prestigious "Platinum Palm Master Builder" distinction from the APCHQ for our 20 consecutive years of excellence.
FINALLY YOUR HOME!
We have put together a wide range of models for all tastes. This site was created to allow you to see what we have to offer you in addition to knowing our products and services.
Our mission is to offer buyers quality homes at the best possible price.
We don't just do the minimum inspections required. Our homes are inspected weekly to ensure that each construction benefits from unparalleled quality.
At the same level, no one can compete with our prices, which are lower than those of the competition.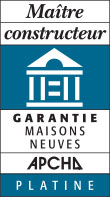 The "Master Builder Platinum Certification" award is a guarantee of seriousness and professionalism. It corresponds to the number of consecutive years during which a builder, since being certified to the APCHQ's New Homes Guarantee, has maintained a satisfaction rate greater than 97%.