How to prepare your home to sell
Last updated on May 17, 2022
It doesn't take a magic wand to make your property irresistible to buyers, just a little time. A tidy house that's in good condition and has a neutral decor will inspire confidence. In just a few days, you can give yourself the best possible odds of enticing potential buyers.
Here are 3 effective low-cost tips to help you prepare your home for sale. These steps are also useful before the photo shoot of your home, to get a really impactful listing on DuProprio.
Contents:
1. Depersonalize
A lived-in house is fine, but it's better to give visitors a chance to imagine living in it themselves. Take a good look at your property, keeping in mind that you only have one chance to make a first impression.
Start by putting away any stray objects, and then, take it a step further and depersonalize. All overly personal traces of your life should be removed from view, even though they may be important to you.
Take the time to:
Reduce the number of knickknacks and plants
Hide the bath mat and personal hygiene products
Take pictures off the refrigerator
Pack up collections and overly personal decorations
Conceal religious or spiritual symbols
Put away unneeded electronics
Put dishcloths, rags and towels out of sight
Sort clothing and pack up those that are out of season
Basically, you're looking for ways to create a neutral environment before putting your house on the market. "This will greatly improve the property's appearance," explains Martin Desfossés, DuProprio real estate coach. "It will make it easier for potential buyers to assess the available space and to imagine how they would arrange their personal belongings."
Can we account for taste?
What do you do if your bedroom walls have outdated wallpaper that might be unappealing to future buyers? Unless a vintage look is one of your home's selling points, it would be to your advantage to replace it with a neutral colour. You want to avoid putting off visitors with things like old wallpaper or figurine collections.
We all have our own taste. But a house that appears to require too much work could cause a potential buyer to lose interest.
2. Purge
Once you've put away personal items, check whether the rooms in your home look overcrowded. If so, it's time to sort and purge.
Move, donate or throw out bulky furniture or objects
Put your possessions in a storage unit
Keep only the essentials
But keep in mind that the home still has to feel inviting and functional. The goal is to purge, simplify and make choices, without leaving the house looking too empty. And keep in mind that you probably still have to live in your home until the transaction is completed.
Once finished, your property will appear more spacious and inviting. If you're unhappy with your current furniture or you're having trouble deciding how to position it, you may want to apply the principles of home staging. The results are impressive and may even have a positive impact on the selling price!
3. Spruce things up
Did you know that major renovations are rarely necessary? It's the little changes that can make the difference between a quick sale at a good price and a difficult sale with endless negotiations:
Repair leaky faucets
Change burned-out light bulbs
Repair doors that don't shut properly
Oil squeaky hinges
If you have time, you should also prioritize the following tasks to restore the glow of your home before putting it up for sale:
Paint any tired-looking walls
Repair holes and cracks in drywall
Install missing mouldings
Adjust electrical outlets installed askew
Replace broken tiles in the bathroom
Eliminate irritants
With the right tools, you will find a solution to those small irritants that can easily become problems. If you don't feel able to do these fixes yourself, don't hesitate to ask friends or family for help. There are also tutorials available on the Internet to help you with simple tasks.
Quick reminder: Although you want to showcase your home and highlight its positive aspects, you must never try to hide existing issues. The buyer could sue if you have knowingly withheld information.
Worthwhile pre-sale transformations
Depending on the condition of your house, it may take a few days, or even a few weeks, to complete all of these tasks. Buyers are often looking for a clean, turnkey home, so preparing your property can make a big difference. Remember that the cost of improvements is often less than having to make a price reduction if the home is taking some time to sell.
Put yourself in the buyer's shoes
To make sure you don't forget anything, try walking through your entire space, starting from the front door, looking around like a visitor would. Open all the window treatments to let in natural light. Look everywhere: walls, ceilings, floors.
Make a detailed list of what needs to be done and determine what really matters. Remember that you must depersonalize, purge and spruce up every room, not only the main room. The scope of work will also depend on your time frame.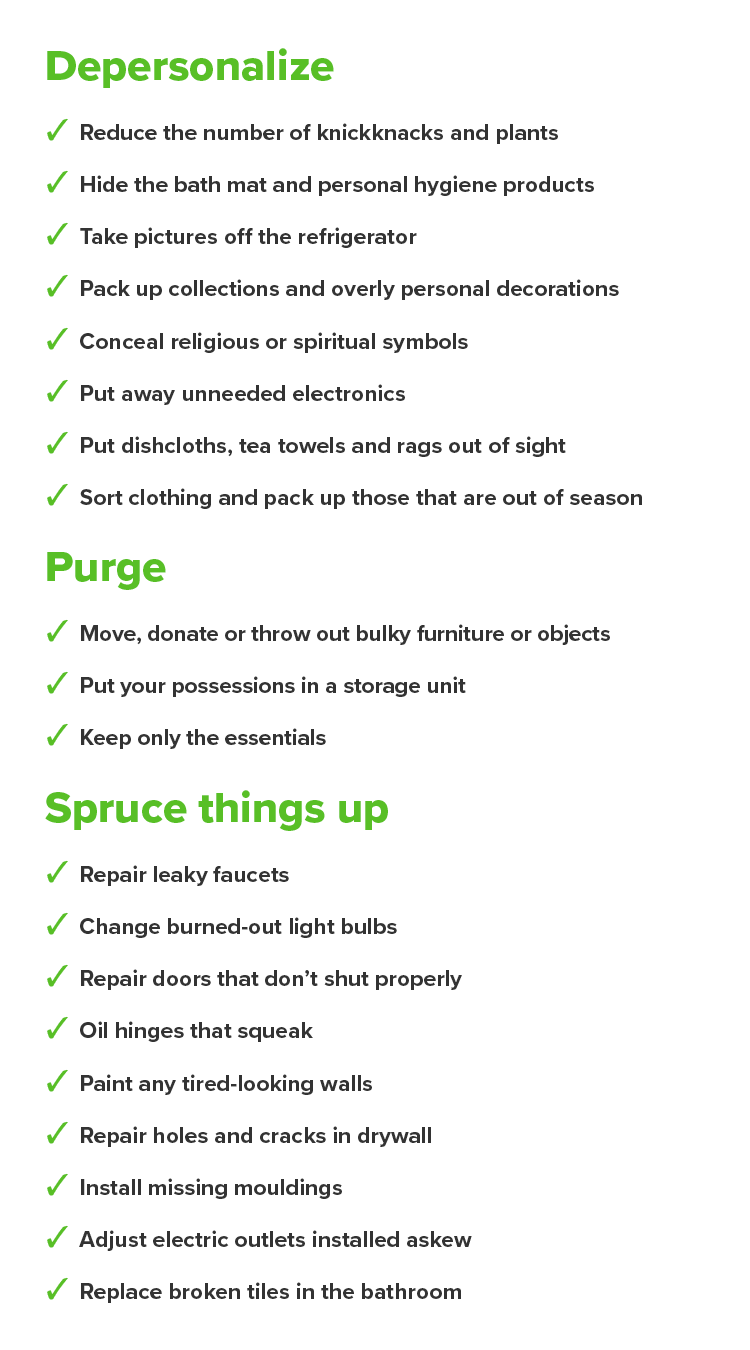 Ready to act?
Start right away and kill two birds with one stone. Get your property ready for the photo shoot and for future visits from potential buyers.
To make your dream a reality, plan to sell with DuProprio. Talk to one of our advisors about your needs or watch our webinar to learn more about our services: