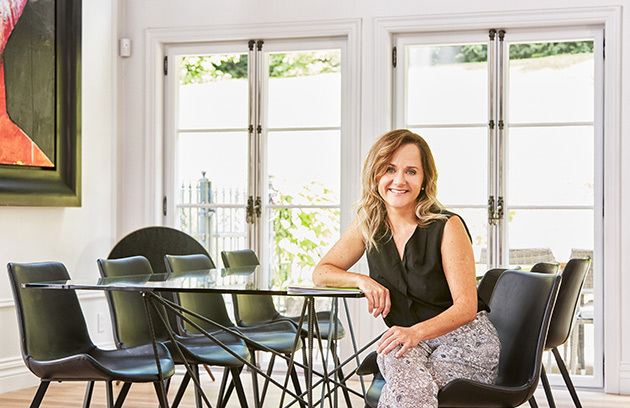 Brigitte Lafleur: Driven by passion for real estate
Published on January 20, 2020
With the new year, Brigitte Lafleur will be starting a new real estate project, hot on the heels of selling her luxurious home in Mont-Saint-Hilaire. This was the sixth property she sold with the help of DuProprio.
Brigitte has owned about 15 properties so far and has probably renovated a dozen. That's a solid track record for the 44-year-old artist. "The extent of the work needed has varied, of course, but they've often been large projects," she admits with a wry smile. "We always think the house we're renovating will be the one we grow old in…" But then restlessness and the desire for change seem to kick in again.
This passion for real estate was inherited from her parents. "My father was a very innovative decorator and my mother loved renovating and all things new," she recalls. "The most beautiful and funky materials were kept for our home."
Brigitte moved from Val-d'Or to Montréal at the age of seven. Her family moved neighbourhoods every year until she turned 12. "My parents loved houses," she explains with a laugh. "They wanted to find the ideal environment."
Experiments and daring
Her own interest in design and renovations kicked in when she moved into her first apartment. She boldly experimented, sometimes more successfully than others. At the age pf 24, she put her efforts into her first home. And that was just the start.
Over the year, her passion was passed on to Mario Provencher, her partner of 15 years. The couple has surrounded themselves by professionals who can help them in their projects, for instance the Quebec company Armoires Cuisine Action, which totally transformed their current kitchen.
"The problem—and the great thing—about us is that we love to create," says the artist-painter and actress. "I keep the design, decorating and some of the painting for myself. Mario likes helping the pros. He's become very good with his hands over the years, and renovations are like a holiday for him."
Large-scale work
They put their hand to almost every aspect of their luxurious Mont-Saint-Hilaire home, which they bought in 2016: from the ventilation, electricity and plumbing, to removing two chimneys (which were too heavy for the roof). Large-scale work took place for about five months before the family moved in.
See pictures of Brigitte's house.
"Every house has its surprises," Brigitte recalls. "Some are good, like seeing the garden blossom in spring for the first time. Others are less pleasant, for example when I chose my textured wood flooring. I did a test to see how it would look once oiled, and it was gorgeous. But after installation, it looked awful! There were tons of green and red planks that I hadn't noticed. So, we had to start over."
But otherwise, the living area, which includes the living room, kitchen and dining room, is still her favourite part of this house. "It's where we spent all of our time, and it's an inspiring space, with its high ceiling, panoramic view in front and mountain view in back," she describes. "And that appeals to my contemplative side."
The restless streak resurfaces
But finally, despite the house's beauty and the great memories they'll keep of it, this house wasn't to be their last one. After putting it up for sale in the summer of 2018, and then removing it after a change of heart, they put it up for sale again in late November. They accepted an offer less than 20 days later.
"The sale happened faster than anticipated, so our plans are still hazy, but we're open to anything," Brigitte says enthusiastically. "It's a great time to shop, to dream and to find our next gem… There are sure to be a few renovations to do."