What grants are available to renovate my home?
Published on May 26, 2022
Planning renovations to sell your home, upgrade it or make it more energy efficient? You could be eligible for grants from the provincial or federal government. Here's an updated list as of spring 2022.
Contents:
It pays to update your property!
Property owners have several opportunities to increase the value of their real estate while improving their own comfort. For instance, if you are doing major renovations, live in rural municipalities of Quebec, or in Montréal, some of these programs may apply to you.
The RénoRégion program
If you live in a rural area and your property has major defects, such as structural, insulation or plumbing problems, you could be eligible for financial assistance of up to $12,000, and a maximum of 95% of the recognized cost to carry out eligible work. The RénoRégion (information in French only) program is aimed at low- and modest-income owner-occupants in all municipalities of under 15,000 inhabitants (excluding Northern villages and Indigenous reserves), as well as municipalities in the Gaspésie–Îles-de-la-Madeleine region. If the municipality where you live has a population of 15,000 or more, you may still meet the grant's eligibility requirements if your area is not hooked up to the water-supply or sewage systems. This exception does not apply to the cities of Gatineau or Laval, nor to the greater Montréal, Longueuil or Québec City agglomerations.
To launch the application process, contact your municipality or RCM to determine whether you qualify for the program. See the website of the Société d'habitation du Québec for complete details
GST/QST rebate for major renovations
If you spend money on construction material or services during major renovations to your usual place of residence, there is a Quebec program that refunds a portion of the federal and provincial sales taxes (GST and QST). The renos or upgrades must involve at least 90% of the total building, or of a portion of the building, being removed or replaced (some exceptions apply). The work must be for a single-dwelling building or co-property (condo). The maximum refund is $6,300 in QST and $9,975 in GST. In addition, the ceiling price obtainable on the free market for the land and dwelling must not exceed $450,000 for the GST and $300,000 for the QST at the time when the renovation work is 90% completed.
Get all the information on this program from the Revenu Québec website. Also available online is the application form.
Financial assistance for the autonomy of people living with a disability
To help in home adaptation, the Société d'habitation du Québec (SHQ) offers the Programme d'adaptation de domicile (PAD) (information in French only). This program gives financial support to the owners of a dwelling occupied by people with a disability, who want to adapt it for those residents. These must be permanent changes that allow the disabled person(s) to
enter and exit their home
get around to access the home's essential rooms
carry out activities of daily living safely.
The amount of financial aid can go up to $8,000.
Municipal grants
Montréal | Home Adaptation Program (HAP)
The City of Montréal has implemented its own Home Adaptation Program (HAP) for people living with disabilities in the city. It is the same as the provincial program, but for Montréal residents. See the website for the program's conditions.
Montréal | RénoPlex
The RénoPlex program is for owners of buildings with 1 to 5 dwellings, including condos. To qualify, the value of the building must be equal to or less than $2,320/m², and its property value added to its land value must not exceed $1.2 million. Montréal property owners can request a minimum grant of $3,000, which must account for no more than 50% of the actual cost of eligible work. Read the Program Guide before submitting your application, and wait for confirmation of acceptance before starting the work.
Montréal | Affordable Housing Renovation Program
If you own a building with six or more dwellings, you could get a subsidy for renovations that extend the life of your building, improve your tenants' quality of life or encourage an ecological transition. In order to qualify, one-third of your dwellings must be leased at affordable rents, half the units must be occupied, and the building must have a maximum of five storeys and must have been built over 20 years ago.
Laval and Québec City | Renovation and restoration of heritage buildings
To preserve its built heritage, the city of Laval has established financial assistance for the renovation and restoration of heritage buildings. You could be entitled to an amount of up to $25,000.
If your property is located in Québec City, was built prior to 1955 and is on the list of buildings with heritage interest or is located in certain targeted areas, you could be eligible for up to $25,000 per year for roofing work. The details are available (in French only) on the municipal website.
Rénovation Québec

Some municipalities participate in the provincial Rénovation Québec program, whose aim is to improve dwellings in deteriorated residential areas. To learn more, contact your municipality or the Société d'habitation du Québec.
Yes to greener homes!
Did you know that buildings, including residential properties, are responsible for 17% of greenhouse gas emissions in Canada?1 Renovating existing buildings can reduce their emissions and improve energy efficiency, while making them healthier for the people living there.
The Canada Greener Homes Grant
The Canada Greener Homes Grant is there to help you make your property more energy efficient and more resilient to climate change. The first step is to have your home evaluated by an EnerGuide energy advisor. Once the evaluation is finished and you have received your report, you can begin renovating. An advisor will visit again once the work is completed to check that your renos have indeed made the property more energy efficient.
Here are the amounts offered by this grant:
$125 to $5,000 to cover part of the eligible home retrofit costs
Up to $600 to cover the costs of the EnerGuide pre- and post-renovation evaluations
To qualify for the program, your home must have been built at least seven months ago and your materials must have been purchased in Canada. There are several types of renovations covered by the grant: air sealing, heating, insulation, renewable energy, doors and windows, and mechanical systems. Check whether you're eligible.
Rénoclimat for Quebec residents

Individuals or companies in Quebec wanting to access the Canada Greener Homes Grant must register for the provincial energy-efficiency renovations program called Rénoclimat. When you register, your file is transferred automatically, and the Canada Greener Homes Grant will contact you to confirm your eligibility. It will also advise you of federal financial assistance you may qualify for.
Chauffez vert program
There's good news if you're thinking of replacing your oil or propane heating system or water heater with a renewable energy system, like electricity or a heat pump. The Quebec government's Chauffez vert program lets you benefit from financial assistance for the retrofit. And that's on top of the savings you'll see on your power bill month after month!
The following dwelling types are eligible if they have no more than three storeys (excluding the basement) and a maximum area of 600 m²:
Single-family home (semi-detached, row, or mobile homes)
Duplex
Triplex
Apartment in a condominium
Multi-unit residential building
Other conditions apply to take advantage of the financial assistance offered by Chauffez vert. Be sure to get all the information before you start your renos!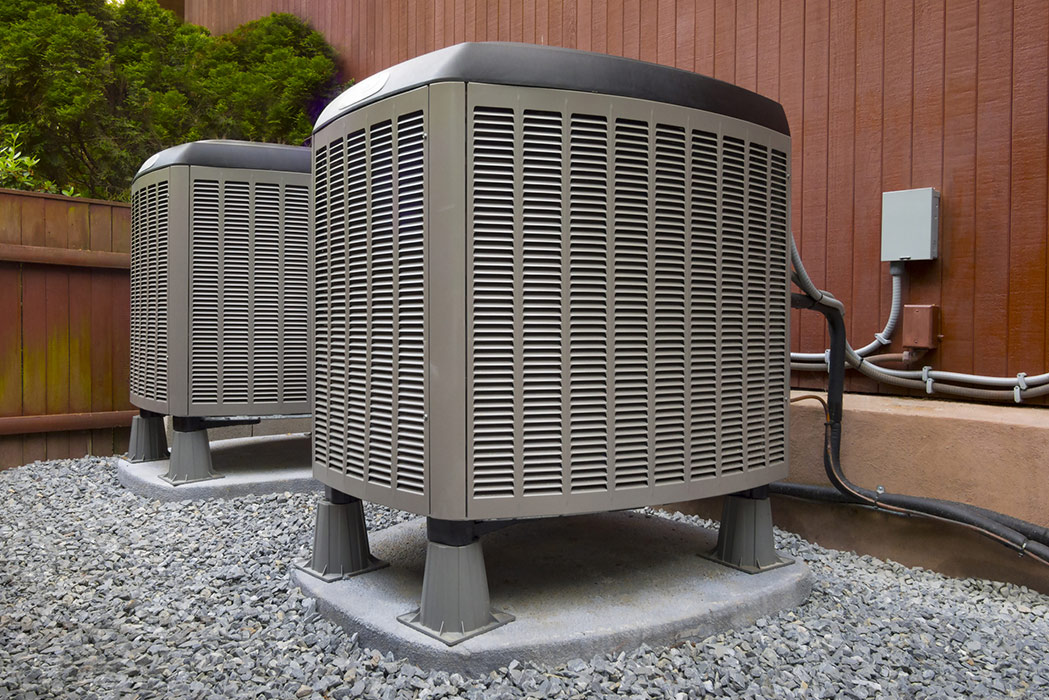 ÉcoPerformance program
Some buildings that do not qualify for Chauffez vert can turn to ÉcoPerformance (information in French only) to convert their existing heating system. This program targets commercial, institutional and industrial buildings, as well as large residential and mixed-use (e.g. residential with commercial) buildings. Financial aid is available for up to 75% of eligible costs.
Éconologis program
Only offered from October to March, Éconologis offers free energy-efficiency services to low-income Quebec households, be they tenants or owners. Here's what's available: individualized recommendations after a home visit from an energy efficiency advisor, and minor work to improve energy use. It may also be possible to get free installation of electronic thermostats.
See if you qualify for next year's program on the website of the Ministère de l'Énergie et des Ressources naturelles du Québec.
Efficient heat pump program
Hydro-Québec has launched a financial aid program for the purchase and installation of a new heat pump. Check out the Participant's Guide and the list of eligible heat pumps.
Rebate for electric vehicle charging stations at home
If you own or lease a new or used electric vehicle, you may qualify for a $600 rebate from the Quebec government when you buy a 240-volt charging station for your home. Proof of installation is required. Check the list of approved charging stations and the eligibility requirements.
Énergir grants
Énergir grants for high-efficiency projects help you lower your monthly bill and implement energy-efficiency measures in your home. Énergir customers who buy and install a smart thermostat are entitled to up to $100 (but not exceeding 75% of the cost of the device). Customers are eligible for other types of grants, depending on the type of renovations done. Find out more on the Énergir website.
If you are in a low-income household, you could receive financial assistance of up to double the amount offered in their energy-efficiency programs. See the eligibility conditions.
Facing climate change together
Renovating not only adds value to your property, it can also mean doing your part for the environment. We all know the planet's resources are not unlimited, so we must take care of them.
Did you know that Canadians use three times more energy than the world average? This is slightly more than Americans and twice as much as the energy demand of the European Union.2 Want to find out how you contribute to this? Get a clear snapshot of your energy use with Hydro-Québec's Energy Performance Indicator.
Making your home greener, with or without grants, is easier than you might think. See our tips and ask your municipality for sources of financial assistance that could apply to you.
Choosing a reliable contractor
Have you decided on a home renovation project and would like it to qualify for financial assistance? It's very likely that the grant will require that the work be overseen by a contractor with the appropriate licence from the Régie du bâtiment du Québec. So, how can you tell whether a contractor is reliable? Request a quote, check their history and project portfolio and make sure they have liability insurance. Once you've made your decision, be sure to sign a contract. You can refer back to it in case of dispute.
Need a hand to find a reliable contractor? Let RénoAssistance help you. Their team can recommend contractors that are selected after a comprehensive 53-point verification process.
If you're really put off by the thought of doing renovations, it may be time to think about selling your home. The DuProprio team will support you in putting your property on the market, right up until you sell. Bonus: you won't have to pay a commission! To learn more, contact our customer service team at 1-866-387-7677 or watch our webinar.
1. Natural Resources, February 2022, Helping Canada's Building Sector Go Green. 2. CBC, October 14, 2021, Canadians to Remain Among World's Top Energy Users Even as Government Strives for Net Zero.