New sales record for DuProprio in 2018
Published on September 11, 2019
Boosted by a very active market in 2018, DuProprio has set a new record by helping 20,850 Quebec homeowners sell their property. This is an 8% increase1 over 2017.
"This is a team success for our 300 employees and our clients," said DuProprio president, Marco Dodier, "and we're extremely proud of them! Multiplied by the average savings of $16,0002 that clients would have had to pay a real estate broker, we have, in a manner of speaking, saved our customers over $300 million this year. It's not surprising that so many are satisfied with our services."
More effective than with a broker
The success rate of sellers getting DuProprio's support (calculated using the ratio of properties sold, relative to those put up for sale) was 80%3 in 2018. But for homeowners who chose a broker, that rate was only 61%3.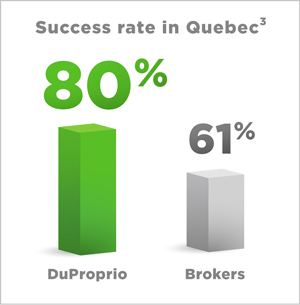 The market definitely kept up the pace in 2018, even though forecasts had called for a drop because of the rise in interest rates and the implementation of tighter mortgage rules in Canada.
"A strong economy and the low unemployment rate allowed the Quebec real estate market to keep growing rather than slow down," says Joanie Fontaine, an economist at JLR Land Title Solutions. "In this situation, people are motivated to invest in a property."
Faster sales than in 2017
Provincially, selling times dropped slightly for DuProprio clients. On average, a single-family home sold in 111 days4, which is 6 days faster than in 2017.
Condos sold 9 days faster than the year before, buoyed by the hot marketplace in Montréal, where buyers are increasingly interested in co-ownership. The average selling time for condominiums dropped from 124 days in 2017 to 115 days in 2018.
"We've been seeing strong growth for condos in the last two years," says economist Joanie Fontaine. "This was especially true in 2018, when there was a 10% hike in sales. When we look only at re-sales, we set a new record. And when we add in new sales, it was still the best year since 2012."
Positive forecast for re-sales in 2019
The Bank of Canada's desire to continue increasing interest rates or to strengthen regulations has been much less pronounced than anticipated since the start of the year. "Growth in the Canadian economy has slowed down, and there are several areas of uncertainty, so the pressure to increase rates has eased up a lot," states Joanie Fontaine.
Not only did the real estate market in Quebec bypass the slowdown that was seen in Toronto and Vancouver in past months, it should also retain its vitality in 2019.
"In addition to the economy's good performance and the low unemployment rate, immigration is also contributing to demographic growth. The expanding population base increases the demand for homes, which will help raise prices," concludes Joanie Fontaine, who is specialized in analyzing real estate data.
1.DuProprio, January 1 to December 31, 2018. 2. Calculation based on the average price of $295,000, for the properties sold on DuProprio.com in 2018, multiplied by an average commission of 5 %, plus applicable taxes. Rounded down to the nearest thousand. 3. DuProprio and the Fédération des Chambres Immobilières du Québec (FCIQ). Calculation based on the ratio between the number of properties declared sold and the number of properties put up for sale on DuProprio.com and by real estate agents, over the year 2018. 4. DuProprio, January 1 to December 31, 2018.