5 outdoor maintenance tips for spring
Published on March 21, 2023
Winter is on its way out. Time to prepare for a new season. And that means time for spring cleaning! Doing some maintenance to your yard, deck or balcony not only makes your property more welcoming, but, if you're planning to sell, it increases the odds of a potential buyer falling in love at first sight .
Here are a few tasks to take on in the coming months to make sure your property is well maintained and ready for summer!
Contents:
1. Inspect the house exterior
Winter weather and cold temperatures can be hard on your home. So it's important to inspect it to make sure winter hasn't left behind any nasty surprises. Take the time to check the following:
Exterior cladding
Roof
Windows
Deck
Pool (if applicable)
Make sure everything is still in good condition. After the inspection, you can start—or even finish—any work needed by summer.
2. Prepare the yard for summer
Once the snow melts, your yard needs some attention to recover from winter. If you want your landscaping to turn heads, here are the key things to do:
Give the lawn a first mowing
Remove moss and weeds
Fertilize the soil
These actions will help your lawn get strong before the temperatures go above 10°C.
3. Clean the rain gutters
This may be the least pleasant task, but it's the most important! Emptying out the gutters helps keep water from accumulating and thus prevents infiltrations. And with the snow melting in spring, it's critical not to skip this job.
4. Maintain your trees and gardens
For a healthy yard that will flourish over several months and may even provide you with food, don't overlook the trees and gardens during the spring months. A few chores done at the right time can make a huge difference.
Get a professional to cut any branches too close to power lines or the house.
Trim shrubs as early as possible. This will allow them to start the growing season in the right direction once the weather is warm enough.
Aerate the soil and add more dirt to your flower and vegetable gardens.
Add fertilizer to the lawn and gardens and under bushes to help your plants grow faster.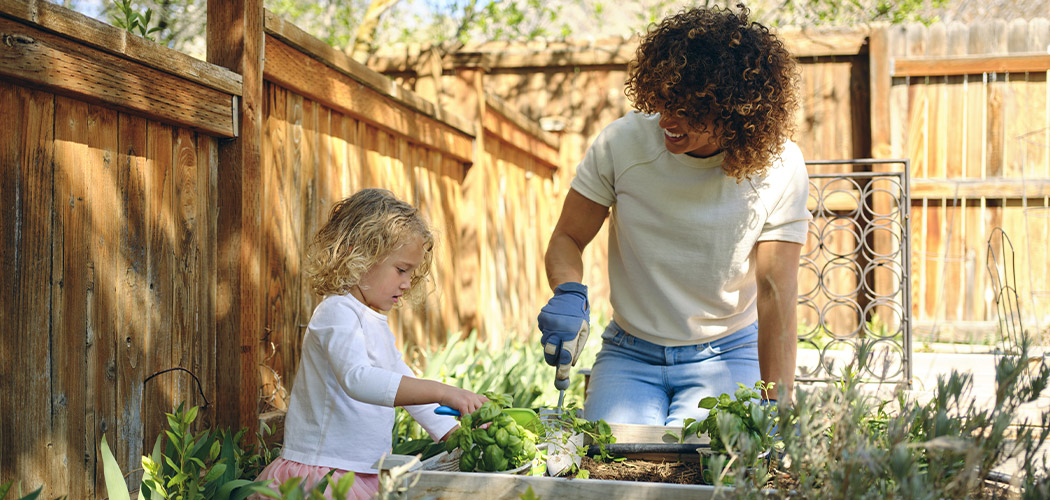 5. Be creative
Once the basic maintenance tasks are done, it's time to get creative and improve your yard. You might want to add a new patio, create a garden bed or plant some flowers. Now's the time to get inspired and adapt your yard to your needs and desires.
Spring maintenance for condos
Living in a condo doesn't necessarily mean you don't have any outdoor chores to do in the spring. Before taking out the outdoor furniture you put away in the fall, why not do a quick inspection of your balcony or patio? Do you notice any damage to the side of the building or the balcony floor? If so, you could advise the condo board, or do the repairs yourself if you're responsible for them. It's also a good idea to clean your outdoor space, because winter is sure to have made its mark.
In terms of beautification, you could set up a mini-garden on your balcony using wooden bins and flower boxes. You can grow anything you want in them: fresh herbs, vegetables, flowers. The possibilities are endless! Most seeds do best when planted at the end of March, in April or in May. You'll find the information on the seed packet.
By following these tips, you'll be ready to make the most of the great weather that's coming soon. Happy spring cleaning!
Need help with your outdoor renovation projects? Contact RenoAssistance to find a trusted contractor.
Planning to sell this spring? Talk to one of our advisors about your selling plans or watch a short webinar explaining our services to help you sell without paying a commission.